Party System
A Party is a small group of players that join together to kill monsters more quickly. Party members share EXP and loot dropped by monsters!
A Party can have up to five characters in it.
Party Members within a certain distance of each other will share Experience Points.
Party Members also share item drops.
Any two players can join a Party together via Character Command.
The player that sends the initial Party Request will become the Party Leader.
To join an existing Party, only the Party Leader can send Party Request.
If a Party Member disconnects from the game, the character will be removed from Party.
If the Party Leader disconnects from the game, the Party will disbanded.
Party Window
The Party Window will appear when you join a Party.
The window displays real-time HP, MP, any Buff or Debuff, and Server of each character.
The Party Leader can kick a Party Member by clicking the "X" next to their name.
The Party Leader is always on first place in Party Window.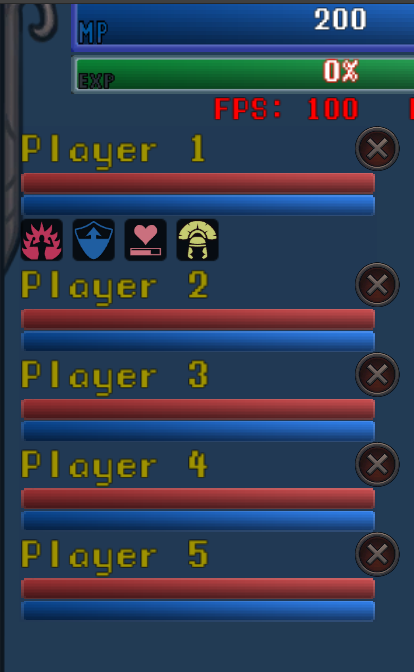 Party EXP Share
EXP is shared between Party Members. It is calculated based on several factors, and you must be nearby Party Members in order to share EXP.
Party Members share EXP according to their Character Level, as a ratio.
The calculation uses the Base EXP earned by the Party Member with the highest Character Level.
EXP Share Example:
A Party of 3 characters:

[Level 20] character
[Level 30] character
[Level 40] character

All character's Base EXP will be that of the average [Level 30] character's [Base EXP].
This Base EXP is then distributed equally as a ratio, based on Character Level.
Therefore, the ratio would be 20:30:40 ; or 2:3:4
Furthermore, because the Party consists of (x3) characters, the Party members earns +40% EXP from Party EXP Bonus.
Assuming the Base EXP earned was 1,000 EXP:

Level 20 character gains around 222 base experience + around 89 bonus party experience
Level 30 character gains around 333 base experience + around 133 bonus party experience
Level 40 character gains around 444 base experience + around 178 bonus party experience
[Party EXP Bonus]
[2] members - 140%
[3] members - 180%
[4] members - 220%
[5] members - 260%